AsReader attends NRF 2022 Show "Accelerate"
Last updated:02/04/2022 12:15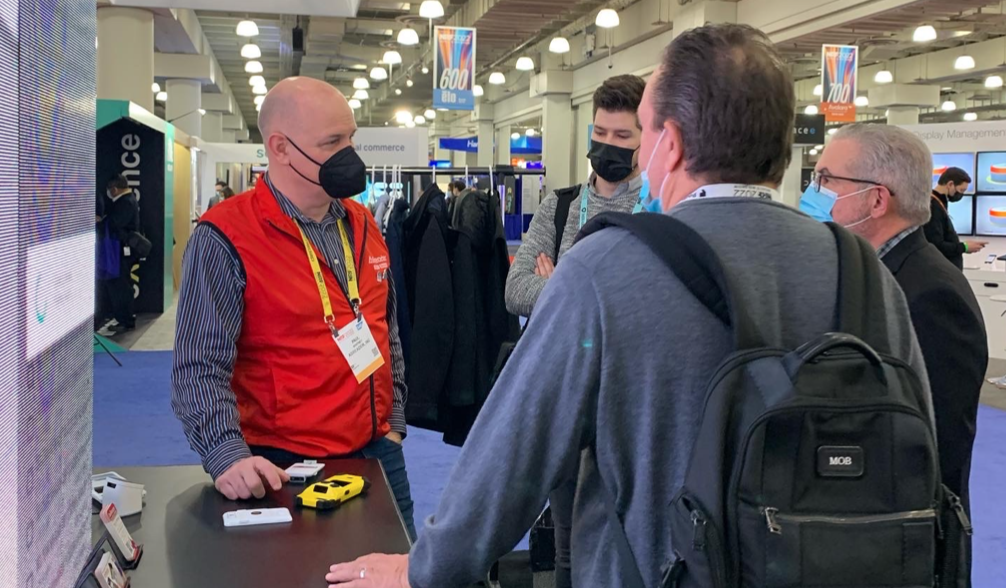 AsReader ushered in 2022 by exhibiting at National Retail Federation's NRF2022 "Accelerate" at Javits Center in New York City the second week of January. Although NRF Show traffic felt lighter than the last show in January of 2020 due to COVID concerns, business picked up and booth visits increased by day two on the Expo floor. By the final day, Tuesday January 18, people were visiting and chatting about retail and tech business right up to the show end at 4 pm.
All told, hundreds of AsReader booth visits occurred over three days with meetings with Vice President Paul Whitney and Senior Account Executive Kris Doane. Badge scans were conducted so that interested booth visitors may become long term clients and partners.
Attendees were treated to a number of live RFID demonstrations in jewelry, retail environments such as clothing stores, big box variety stores, and self-service grocery and retail product checkouts.
The future of inventory for the jewelry and watch industry is RFID. AsReader staff showed attendees how an RFID reader embedded inside a jewelry presentation tray can "watch" the pieces as they go on and off the tray during a customer showing. This "Smart Presentation Tray" captures customer interactions within the boutique, providing valuable insights, much like what products have been viewed through ecommerce channels. Combined with sales data, the record of the customer interactions provides the conversion rate of the pieces shown. Armed with this detailed information, a retailer can make better decisions about what pieces should be placed within their boutiques, and better guide their sales associates on how to improve their customer conversion rates and increase the number of pieces sold per transaction. In addition, AsReader's GUN-Type can help locate jewelry pieces that may have been misplaced within the boutique, to better serve those potential buyers.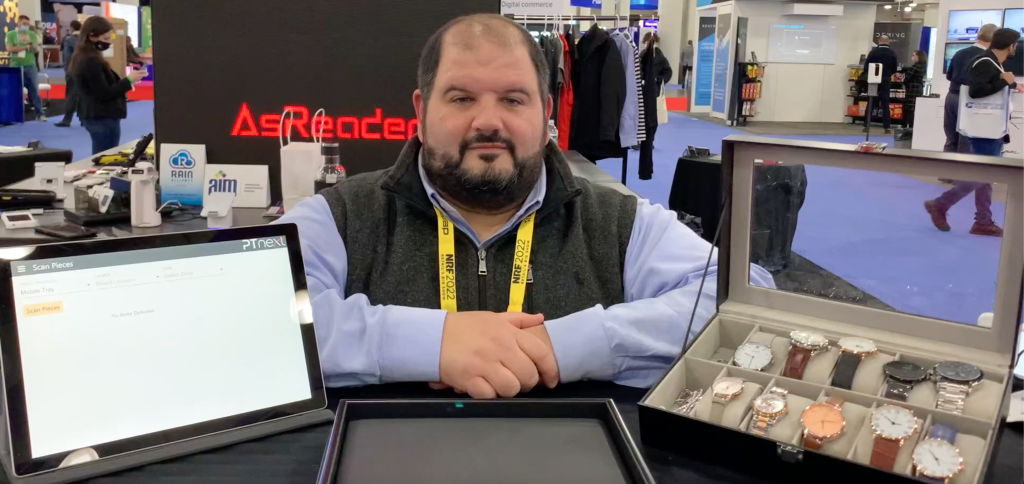 Kris (pictured above) and Mike McElduff, AsReader's partner at PT Next / Pac Team Group, took show attendees through the process with jewelry and watch pieces, and explained other applications such as sunglasses and even cannabis. Mike, who works with luxury watch and jewelry brands, showed how converting window shoppers to customers through RFID could be efficient and fast. Mike's demonstrations were welcomed by jewelry marketing executives craving accurate data on customer interactions within their boutiques.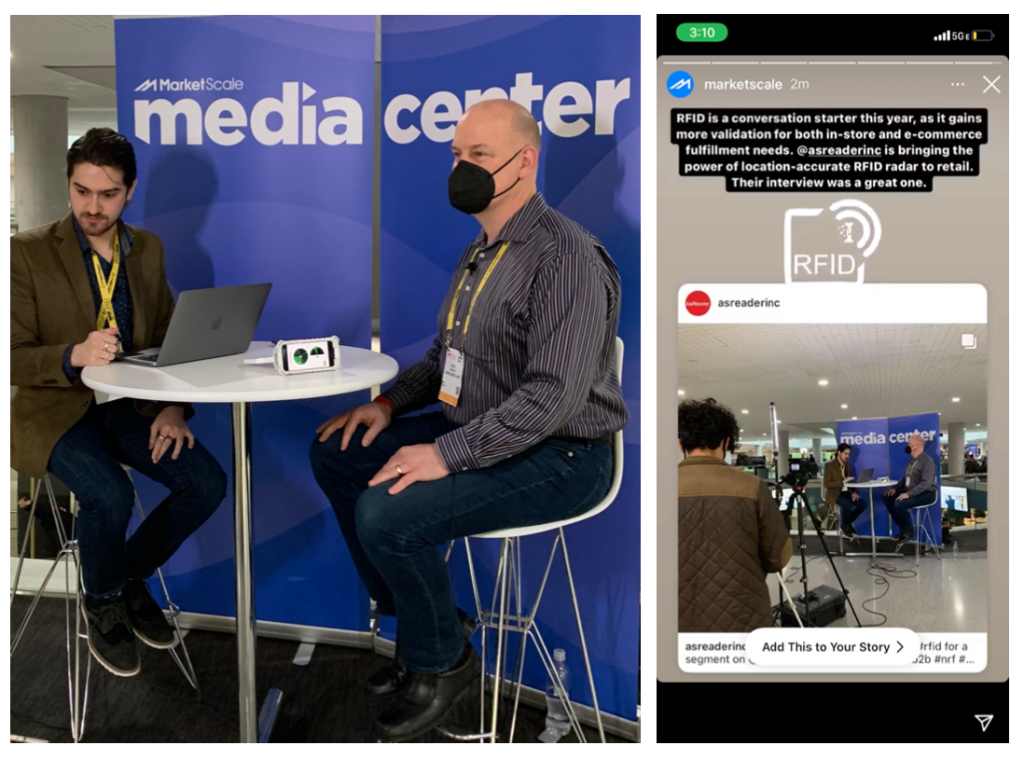 Also at the booth was Sarah Murdoch, AsReader U.S. PR representative, who wrangled media to the booth throughout the show, even scoring Paul an interview with tech news B2B web news platform MarketScale (above.) Media visits resulted from a personal invitation to press members from across the globe, and a follow up to all media with further information will occur the week of January 24.
In demonstrating how far and fast tags can be read, Paul demonstrated the uses and reach of the ASR-L251G with a rolling rack merchandized with clothing. Below, left is Paul taking two media members at RETHINK Retail through the process.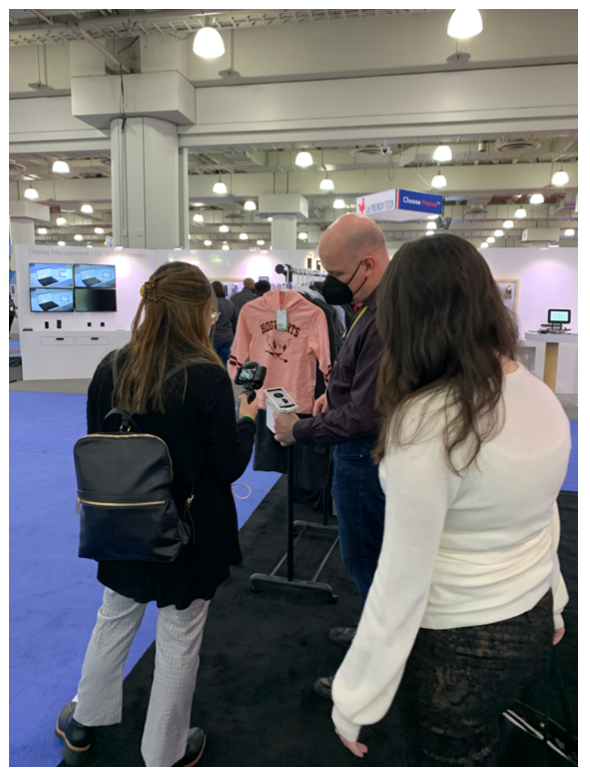 Technology company Wipro using AsReader with Augmented Reality (AR) to show when product counts are low, including when items are about to sell through completely. AR also helps find missing inventory items without having to open boxes because RFID reads through cardboard, wood, glass, plastic, etc. Users can find things like a single "widowed" shoe in a closed box and demonstrate in real time how retail experts find products, saving the staff time and adding to their job satisfaction of faster completion and higher accuracy, too. As their webpage devoted to NRF explains, "RFID scanning with AsReader can conduct thousands of scans at once from up to five feet away. This data is analyzed, stored, and easily accessible via an AI-powered chatbot."
Visitors were also interested in how RFID can help customers navigate self check out lines with instant and accurate item counts, pictured left. AsReader is different than other readers as the RFID reading area reads more completely while not reading the next shoppers' items. It does this with a recessed build-out tub (or non-recessed tabletop version) that keeps a "bubble" around the read area, avoiding mis-reads, pictured below.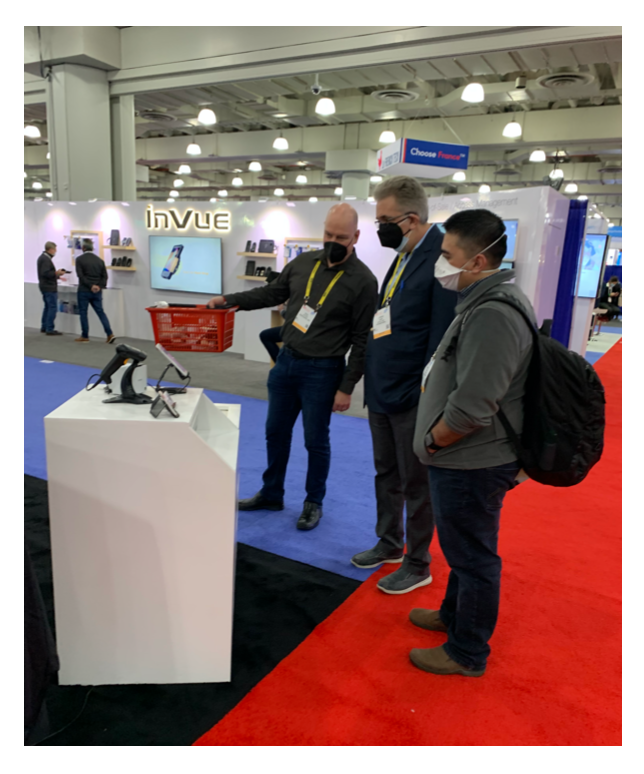 The newest version of the AsReader ASR-L251G, designed in Japan and made in South Korea made its debut at RFID Journal LIVE show in fall of 2021, and NRF 2022 marked the second time the device was shown to retail executives at an exhibition. This single device is compatible with iOS iPhones, iPods and iPads; Android smartphones and tablets; and now offers support for Windows tablets as well. Read-speeds are now over 1,000tps ("tags per second"). The quick, lightweight RFID Reader/Writer is currently in the hands of many manufacturers, retailers, healthcare leaders, and transportation/logistics companies aiming to complete inventory quickly and locate items with X/Y/Z coordinates, thanks to the directional antenna's phasing information. The AsReader L251G antenna has a 60° cone-shaped aperture, making it far more focused and intuitive than circular antennas that send the same RF power out in a 360° globe. This narrower cone allows users to penetrate deeper into things like pallets of incoming stock without having to unload all the boxes and open them to look inside. This lovely little device has a read distance of over 40 feet with a regular squiggle tag at its max output power of 30dBM / 1 Watt and can be dialed down for shorter read ranges as needed.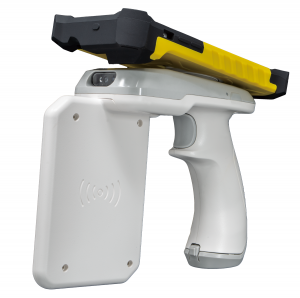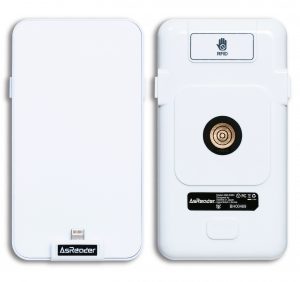 AsReader also offers a pocket version RFID reader/writer called the AsReader ASR-030D for iOS/Apple iPhone, iPod touch, and iPad as well as the AsReader ASR-A30D for Android smartphones and tablets.
These scan at a range of 3 to 5 feet (1.5m) and operate at up to max output power of 27dBm / 500mW.
The booth crew, left to right: Sarah Murdoch, Michael McElduff, Kris Doane and Paul Archuleta Whitney.