AsReader Debuts Quick, Lightweight RFID Reader/Writer
Last updated:10/03/2021 00:11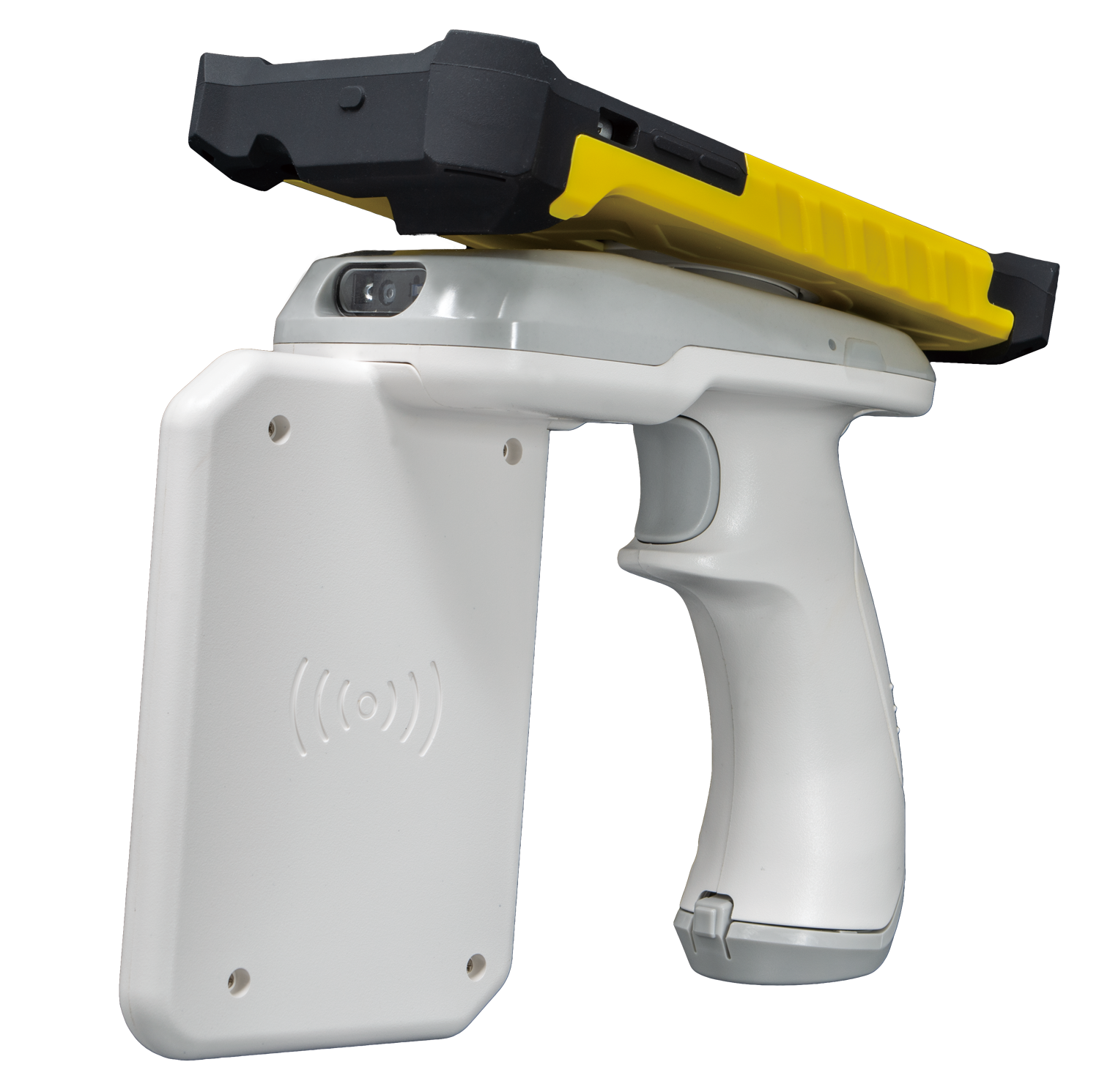 ASR-L251G is "Set to Stun," with speeds over 1,000 tags/second and a 40-foot read range, while parent company Asterisk Inc enters an IPO on Tokyo Stock Exchange
Portland, OR, October 2, 2021 . . . Hundreds of people in the retail, manufacturing, logistics, and healthcare industries were treated to a debut of one of the industry's fastest RFID scanners, called the AsReader ("Az-Read-er") ASR-L251G, last week at the RFID Journal Live! convention in Phoenix. The initial rollout of the gun-style scanner, designed in Japan and made in South Korea, is currently in the hands of many manufacturers, retailers, healthcare leaders, and transportation/logistics companies aiming to complete inventory quickly and quickly locate items.
With an MSRP of $1,499, each gun attaches quickly and easily auto-switches between iOS, Android, Windows smartphones and tablets, including legacy iPhone 5 through today's 13 Pro Max. The smartphone is connected either by USB or AsReader's Apple MFi Certified Lightning Connection and locks into place with a proprietary magnetic design, making set-up quick and painless.
Said company Vice President Paul Whitney, "The ASR-L251G is the best gun style scanner we've launched to date. Users need to inventory and deliver products lightning fast, and this device gives them both lightness and speed," he said. "As well as offering a read distance of 40 feet, it's fast because it's hardwired and doesn't have the bottleneck of Bluetooth. And inventory can be done in a fraction of the time it used to take."
Whitney refers to an instance in the USA where a store needed to close for an entire day while 15 people worked for 11 hours to conduct a count of 30,000 items over two floors. With AsReader's ASR-L251G, it took one person just two hours, equating to two hrs versus 165 hrs of labor.  And with better accuracy and no downtime—the store remained completely open while inventory was discreetly conducted, making the ROI abundantly clear.
The greater read-distance and deeper penetration of AsReader's linear antenna with a 60° aperture means that using UHF RFID someone can scan without ladders in some cases, or having to reach far back through stacks of inventory to aim the scanner up close.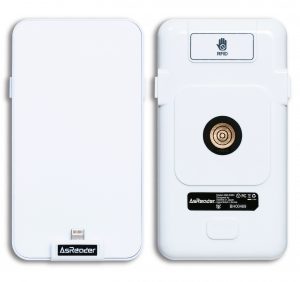 AsReader also offers a pocket version RFID reader/writer called the ASR-030D which will scan about 20 tags a second and operates at 27dBm (half a watt). The compact device is a sled-type that attaches to the back of a smartphone.  It can slide into a pocket, which is preferable to users who are on the go, such as logistics workers and hospital staff.  In Japan, AsReader makes up 70% of the sled market.
Tech specs for both devices are on the AsReader site:
Model name
iOS & Android: ASR-L251G
iOS: ASR-030D / Android: ASR-A30D
Spec
ISO 18000-63 (Formerly known as:

 

ISO 18000-6 Type C) / EPC Class1 Gen2

ISO 18000-63 (Formerly known as:

 

ISO 18000-6 Type C) / EPC Class1 Gen2

Bandwidth
USA & Canada: 902-928MHz

EU: 865-868MHz

Japan: 916-921MHz

China: 920-925MHz

Brazil: 902-908, 915-928MHz

USA & Canada: ASR-030D: 902 – 928MHz

 

EU: ASR-031D: 865.6 – 867.6MHz

Output power
1W (30dBm)

 

5dBm~30dBm: adjustable per 1dBm

500mW (27dBm)

 

Reading distance
Up to 40 feet (12 meters)
Up to 6 feet (2 meters)
Reading speed
1,000 tags/sec
20 tags/sec
Functions
Read / Write / Lock / Kill
Read / Write / Lock / Kill
Polarization characteristics
Linearly Polarized Antenna
Circularly Polarized Antenna
In other news, parent-company of AsReader, Asterisk, Inc, which started 15 years ago in 2006 as a software company in Osaka and grew into an advanced hardware manufacturer over the past decade, has entered an Initial Public Offering on the TSE/TYO Tokyo Stock Exchange September 30, 2021. Ticker number: 6522. 
# # #
More information on AsReader
AsReader, Inc. is an Oregon Corporation and a wholly owned subsidiary of Asterisk, Inc of Japan.  Asterisk was founded 15 years ago in 2006, headed by charismatic founder Noriyuki Suzuki with over 100 employees worldwide, headquartered in Osaka, Japan with offices in Tokyo, Japan, Dalian and Shenzhen in China, Portland, Oregon in the US, and Rotterdam in The Netherlands. Major clients include manufacturers Toyota and Kawasaki, retailers Tokyu Hands and Aoyama, over 300 hospitals worldwide and a well-known package delivery company using over 30,000 AsReaders. Please visit https://AsReader.com for more information .
Contact: Paul Whitney, Vice President, paulw@asreader.com