AsReader ASR-030D(AsReader Dock RFID)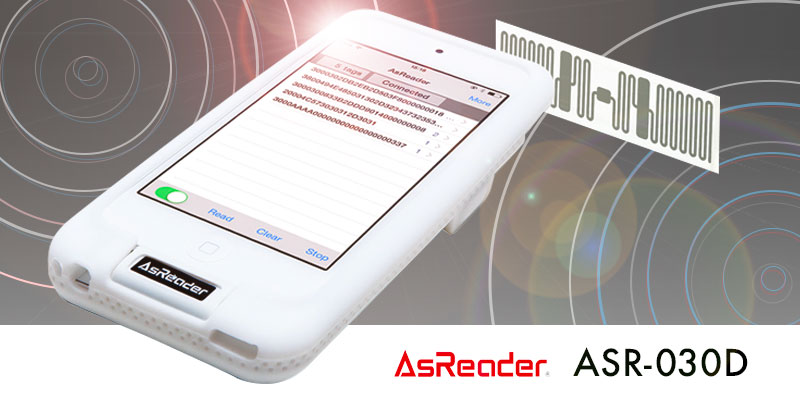 Hello!
This is Hiruta from the Public Relations Section.
Asterisk plans, designs, and sells barcode readers and RFID reader-writers under the brand AsReader.
RFID is divided into different types according to the frequency band.
AsReader focuses on developing UHF band RFID reader-writers.
UHF RFID is an RFID communication standard that uses 860-960MHz of the UHF frequency band for wireless communication.
The main feature of UHF band is that it is affected by the antenna used, the target tag, and the operating environment.
The main feature of UHF is that it can read tags as close as a few centimeters and as far as a dozen meters away at once.
In recent years, it has been actively used in the apparel industry for cash registers and inventory management in order to improve operational efficiency.
In this article, we will focus on the ASR-030D, a UHF-band RFID reader/writer that is the core of AsReader.
This time, I'd like to introduce you to the ASR-030D, one of AsReader's core UHF RFID reader-writers!
Feature 1
Feature 2
Feature 3
Feature 4
Feature 1
Specified low power with a radio wave output of 250mW or less.
The output can be increased in increments of 0.5dbm from 18dbm.
Even though it is specified low power, it can read tags at a distance of about 1 meter at maximum output.
The mirror subcarrier system allows for high density use and prevents carrier sense waiting.
Feature 2
After all, it is the biggest feature of AsReader.
It is an attachment type that attaches to the iPhone or iPod touch.
No problem even if the size of the iPhone or iPod touch to be attached changes!
You can use it just by changing the case.
It's also very light and compact, so it's easy to operate!
Feature 3
SDKs and sample sources for developing apps are provided free of charge.
It is possible to develop apps that match the intended use, such as apps that link to the core system.
Feature 4
Unlike any handheld terminal you've ever seen, you can always save on installation costs!
For example, when used in conjunction with iPod touch
iPod touch is 21,800 yen
If you include the case, the total cost is ・・・・
148,600 yen (excluding consumption tax)

Please check the price of the product at the official store.
https://store.asreader.jp/products/detail/7

What do you think?
There will be an exhibition soon, so please come and try it for yourself!