In January 2020, we participated in the U.S. exhibition for two weeks in a row, and it was a great success!
Last updated:01/21/2020 19:35

In January of 2020, we participated in two large-scale exhibitions (CES 2020 and NRF2020 RETAIL'S BIG SHOW) in the United States for the second consecutive week under the name of our local subsidiary, AsReader, Inc.
Together with RFID Journal Live!, an exhibition specializing in RFID (radio frequency identification) held in April last year, and ProMat, the largest logistics equipment exhibition in North America, we will continue to develop Asterisk's automatic identification technology in all directions in the United States.
————————————————-————————————————-——————————
CES 2020 (formerly Consumer Electronics Show)
————————————————-————————————————-——————————
■January 07 (Tuesday) – 10 (Friday), 2020
■Las Vegas Convention Center (LVCC) and 11 other venues (Las Vegas, Nevada)
■Official website: https://www.ces.tech/
CES is one of the world's largest trade shows for the consumer technology business, boasting a history of more than 50 years since the first Consumer Electronics Show was held in 1967.
The show is held in 11 locations in the city, including the Las Vegas Convention Center (LVCC), with a total of approximately 269,500m² of exhibition space, and attracts more than 4,400 exhibitors and 170,000 visitors from 160 countries.
Many of you may have heard about it because Sony's announcement of a concept model of EV (electric vehicle) made news in Japan.
AsReader, Inc. exhibited at the Central Hall of the LVCC, the main venue of the event.
In addition to the four local members, we had four helpers from Japan: President Suzuki, Tokyo Division Manager Kato, and two from Europe (AsReader Europe B.V.), for a total of eight people to promote the AsReader lineup.
It was our first time to exhibit at CES, and our AsReader CAMERA-Type drew a lot of attention, just as it does in Japan. Surprisingly, there were many people in Japan who knew about our technology of image recognition by smartphone's built-in camera.
We were happy and proud that we were able to build a little bit of a foothold in the US.
During the four days of the exhibition, we had about 400 visitors to our booth and received 250 business cards, which was not bad for our first time and smallest booth.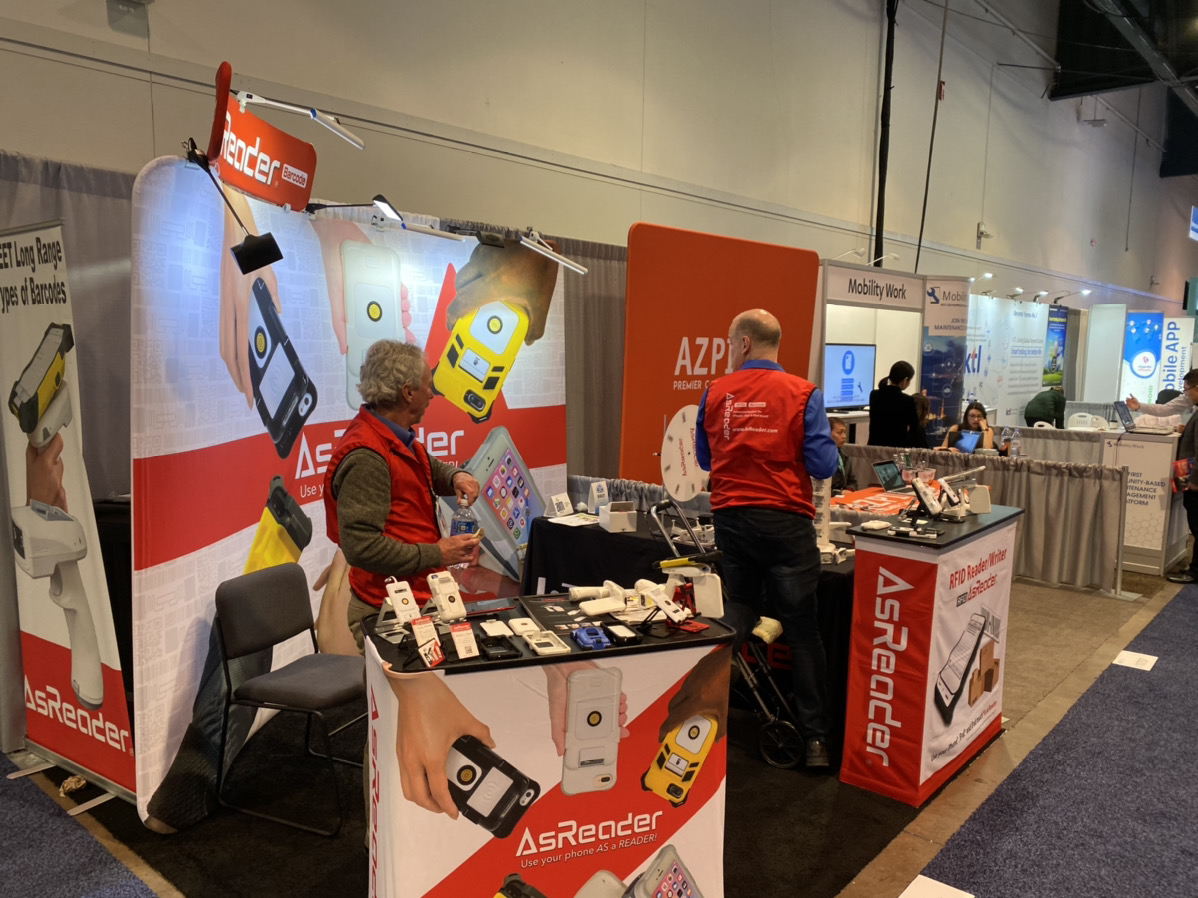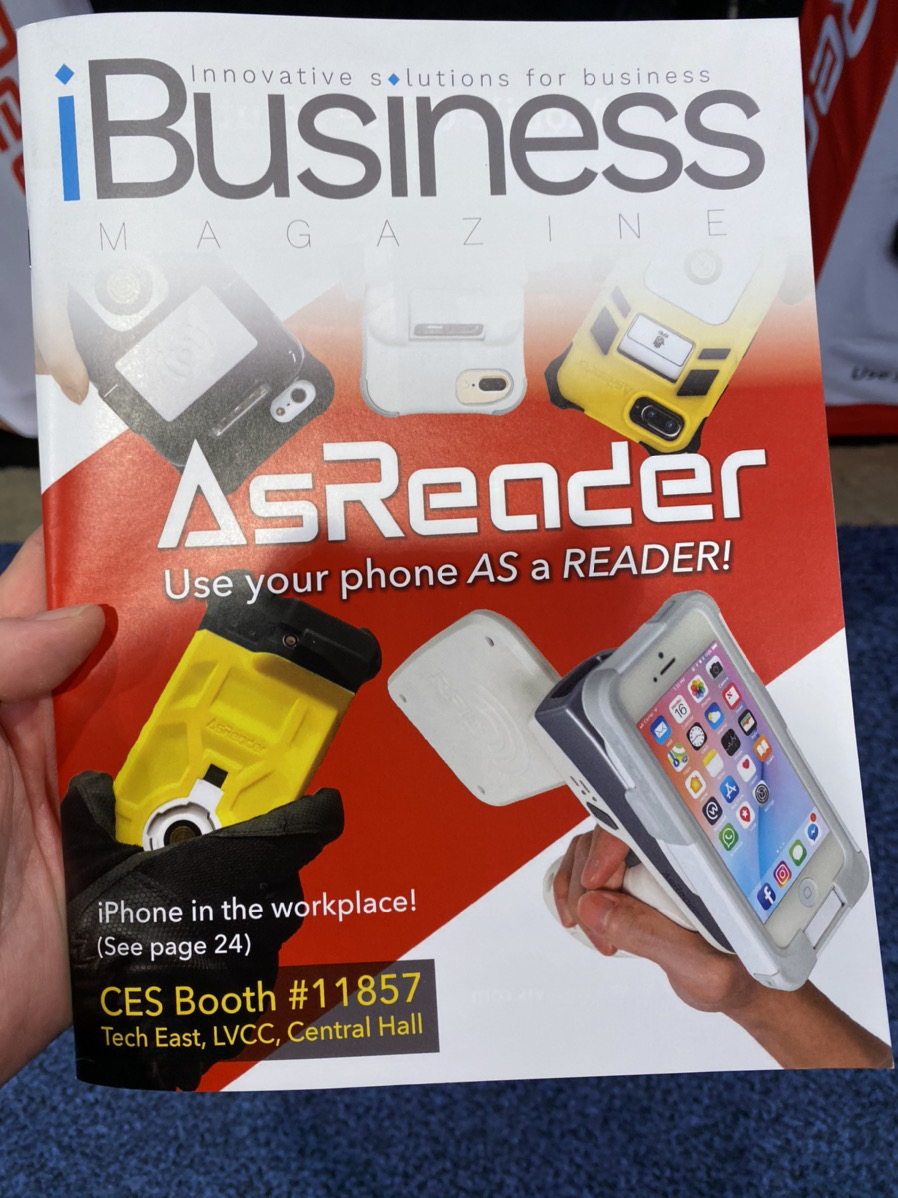 ————————————————-————————————————
【NRF2020 RETAIL'S BIG SHOW】
————————————————-————————————————
■January 12 (Sunday) – 14 (Tuesday), 2020
■Jacob K. Javits Convention Center (Manhattan, New York City)
■Official website: https://nrfbigshow.nrf.com/
The NRF RETAIL'S BIG SHOW is one of the largest retail conventions in the world, held every January by the National Retail Federation at the Javits Center in Manhattan, New York.
With over 800 exhibitors, including retail technology vendors, solution vendors, retail marketing companies and consulting firms, the show is the place to be for the retail industry of tomorrow.
It attracts over 40,000 visitors from 99 countries, not only from North America, but also from Europe and Asia.
Most of the overseas visitors are from Brazil, Canada, the UK, France, and Germany, and less than 400 people from Japan attended this year.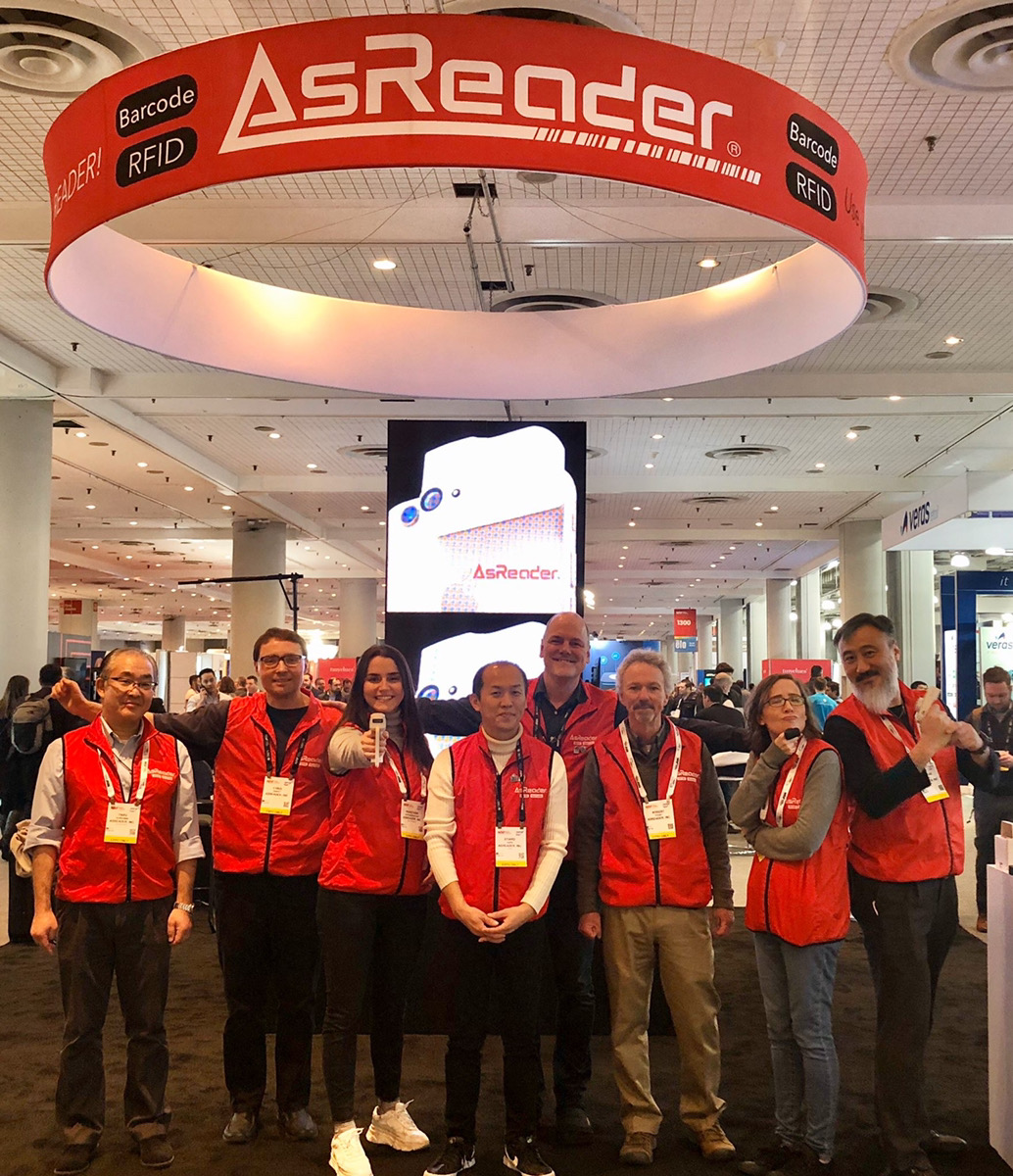 For the second year in a row, we participated in this exhibition as AsReader, Inc. and displayed a full lineup of AsReader products.
AsReader CAMERA-Type was also the attention getter, but the most popular product this time was AsLock, a twist-type lock connector equipped with a new magnetic communication terminal, Magconn.
The product concept of AsLock, which enables a smart device to be attached to GUN-Type to read RF tags over a long distance of more than 10 meters, and a device to be attached to DOCK-Tyoe to become a reader-writer in the vicinity of 1 meter, was highly evaluated.
The response was so positive that we were confident of the power of this new product, and we foresee a flow of inquiries and adoptions in the future.
Since this is a retail-focused exhibition, we also exhibited and demonstrated the AsReader BOX-Type and RFID Reading Tub at NRF, which were not shown at CES.
The AsReader BOX-Type and RFID Reading Tub were also exhibited and demonstrated.
We were happy to see that we were able to appeal the performance of these products to many people in the retail industry.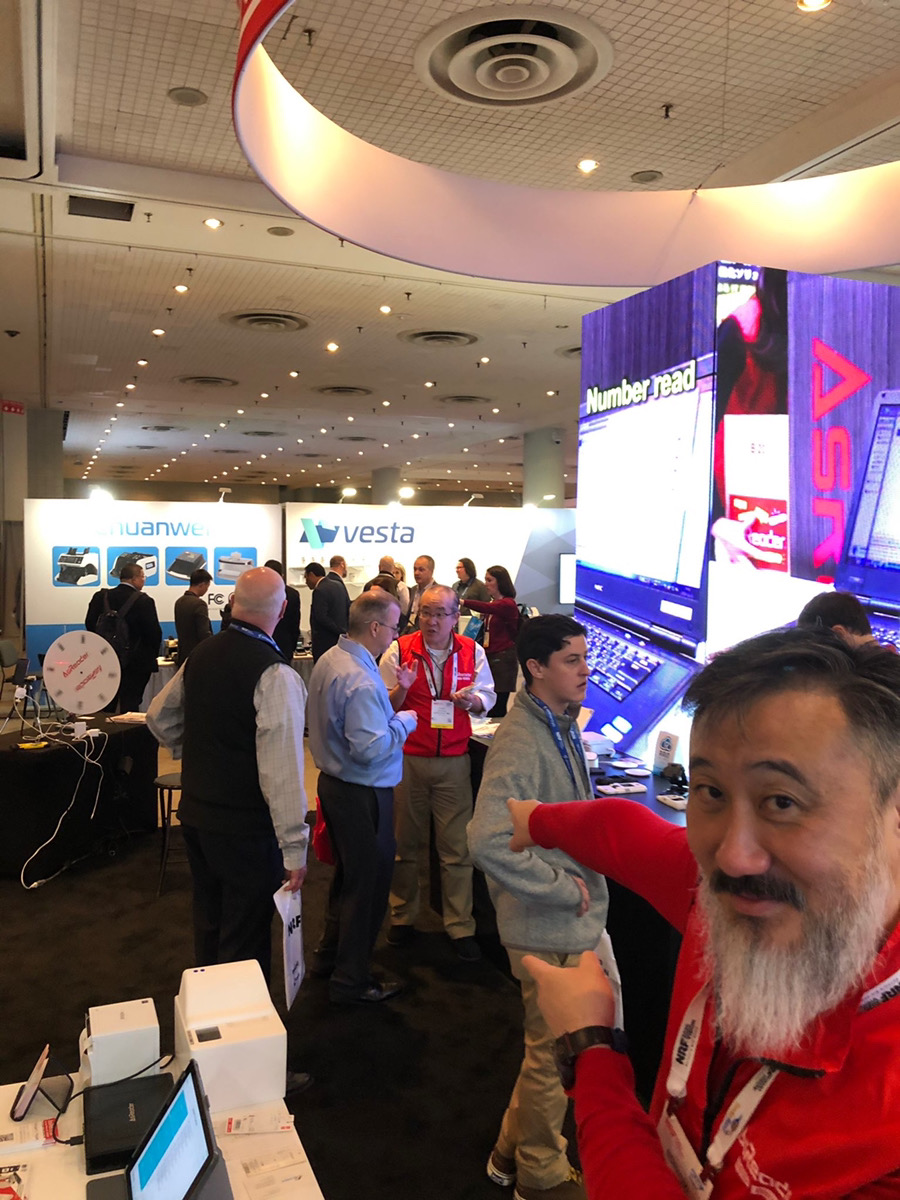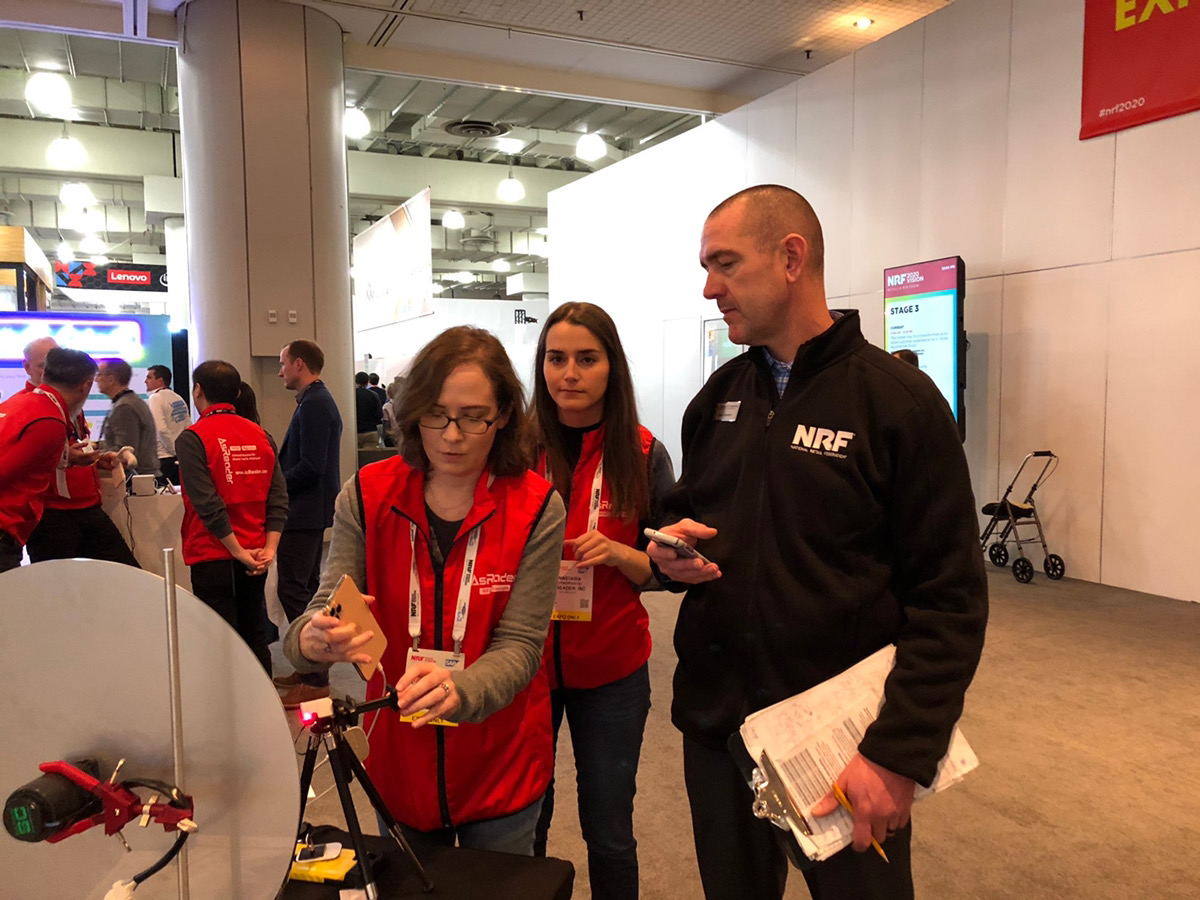 During the three days of the exhibition, 700 to 800 people visited our booth and we received over 500 business cards, which was a satisfactory response compared to the total number of visitors.
In both exhibitions, I was able to get a strong sense of the potential for AsReader development overseas, not just in North America.
From now on, there will be four consecutive months of exhibitions, private seminars (AC2020), and events in Japan.
Everyone, please keep an eye on us and AsReader!