AsReader's partners Trilliott and Schaeffler recognized as finalists by RFID Journal for supply chain award
Last updated:11/15/2021 20:13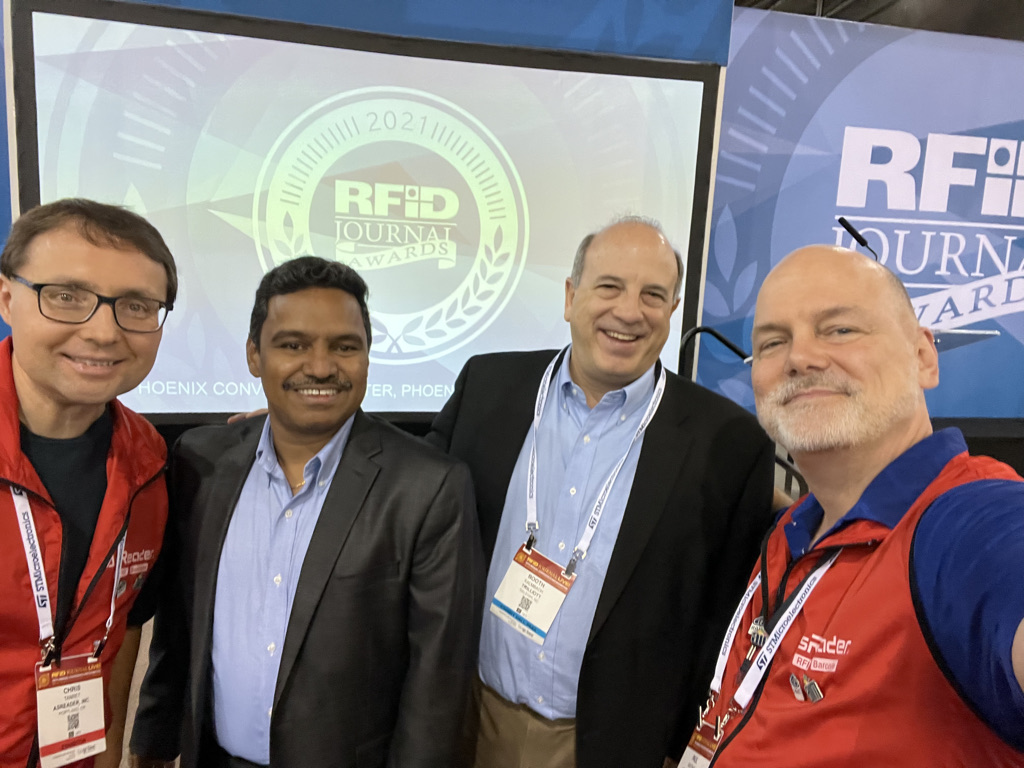 (Photographed, left-to-right:Chris Tanret (Business Development) of AsReader, Karthikk Munirathinam (Director – Digitalization) of Schaeffler USA, Booth Kalmbach (Founder & CEO) of Trilliott, and Paul Whitney (VP & COO) of AsReader)
Late last fall, RFID Journal announced finalists of a prestigious award, and AsReader's partners Trilliott and Schaeffler were named. The award, "Best RFID IoT Implementation in Supply Chain/Logistics" was made possible by the deployment of Trilliott's SmartSITE for Supply Chain™ at Schaeffler and utilized AsReader's ASR-L251G RAIN RFID Gun-type readers.
AsReader is proud to be a part of this ambitious project and recognized by RFID Journal. The supplier shipment use case is targeted to reduce asset loss while improving free cash flow tied to excess inventory.
The challenge:
Companies' supply chains have a common problem: too much inventory on-hand, which results in hundreds of millions of dollars in excess inventory on the balance sheet. New IoT technologies like RAIN RFID provide a solution to fix this problem.
In fact, in 2020 despite the COVID pandemic, 21 billion RAIN RFID tags were deployed to improve inventory accuracy from 65% to 95% on average. While this benefits top-tier retailers who have made enormous RFID investments, our RFID system now makes it possible for smaller retailers to enjoy these benefits.
Schaeffler manufactures high-precision components and systems for engine, transmission, and chassis applications as well as rolling and plain bearing solutions for a wide range of industrial applications. The company was founded in 1946 in Germany and launched its IPO in 2015. With 83,000+ employees, and over EUR 12 billion in revenue, Schaeffler is a leading global supplier to the automotive and industrial sectors.
The challenges the current market presents to Schaeffler are delivery issues, rising costs, and demand volatility – all of which impact operations due to invisible inventory, loss of assets, and labor-intensive processes. The cost of excess material inventory is an important performance metric. If inventory is drawn too low, stock-outs kill production efficiency. Even with a state-of-the-art ERP system, manual processes and high fulfillment velocity pose challenges for sustainable inventory reduction initiatives. Schaeffler needed a holistic solution to provided material visibility across its supply chain, in its warehouses, and at its suppliers.
Partners in Place:
In an attempt to fix these problems, Schaeffler needed strong partners in place. Trilliott, an RFID-first supply chain and warehouse management software company, has been working with Schaeffler for two years putting RAIN RFID to use. Schaeffler partnered with Trilliott to implement Schaeffler's Dunnage Tracking System, a solution using a mobile scanner strategy that is both affordable and quick to install, and powered by the cloud for easy access to analytics.
As for software, Trilliott's SmartSITE™ Supply Chain and Warehouse Management solution handled system requirements without third-party extensions.
RAIN RFID tags are deployed by both the customer, the owner of dunnage in the downstream supply chain, and by Schaeffler, owner of dunnage in the upstream supply chain. Schaeffler deploys the Tageos EOS-500 tag for dunnage tagging. The 97 x 27 mm (3.82 x 1.06 in) tag is optimized for supply chain and asset management applications and is deployed in combination with the AsReader ASR-L251G mobile scanner for fast and accurate long-range reading.
The Field Trial:
Substantial field testing of tag solutions, mobile scanners, and fixed readers was conducted at four manufacturing facilities in a variety of operational environments.
A field trial was implemented in April 2020 with the Dunnage Tracking System. A key Schaeffler customer issued a tote tracking mandate to its suppliers. The Schaeffler and Trilliott team met the customer mandate in just six weeks and began tracking the customer's totes, including implementing an automated data exchange from the Trilliott Database of Things to the customer's tracking system. This allowed the Schaeffler team to compare internal tracking results to the customer's tracking results to verify overall accuracy.
How the RFID project works:
At the warehouse dock, material arrives in totes with a RAIN RFID tag that identifies the material type and by reference, material quantity. Using AsReader ASR-L251G mobile scanner handsets, comprising a smartphone and handheld RAIN RFID scanner, Schaeffler team members at the receiving dock capture incoming shipments. Likewise, team members on the shipping dock capture outgoing empty totes. Tags are filtered and aggregated into business events describing material movement that are uploaded to the cloud for analysis.
Final results:
For a manufacturer like Schaeffler, the difference between full inbound totes and empty outbound totes is the most accurate measure of material consumption possible today.
Schaeffler Dunnage Tracking System is bringing real-time visibility of inventory, increased efficiency and machine uptime, lower operational cost, and improved customer delivery performance. Furthermore, it transforms the supply chain value stream by building "digital assets" in the long term.
The key measure is the accuracy of totes tracked on a unit basis. Schaeffler is able to compare the daily dunnage count against its customer's unit data to consistently verify high read count accuracy. The total volume of material components tracked in the first year amount to millions.
Schaeffler's Dunnage Tracking System went into production in August 2020, and since then has operated continuously in four facilities, accurately tracking millions of material components.
Summary:
RFID is not a new technology, but it has been a very expensive technology to get right. Trilliott has deep experience in both RFID and the next-generation software architecture needed to make RFID work. Trilliott reinvents day-to-day applications like Supply Chain and Warehouse management, and high-value high-demand asset tracking, with an RFID-first approach that improves performance and makes the technology affordable for all.
When full, dunnage carries a large volume of metallic piece parts that can impede RFID performance. Linear-beam mobile scanners were carefully chosen to achieve 100 percent reads of 48-tote pallets. Edge computing on powerful smartphones substantially improves accuracy. Cloud-based analytics completes the picture.
Based on impressive initial results, Schaeffler is evaluating further expansion of the Dunnage Tracking System to its own suppliers, and to begin a systematic analysis of material consumption. Through these added capabilities, decision-makers will have more granular visibility across their supply chain, to be able to address anomalies before they become critical, ultimately enabling a leaner, more robust supply chain.
While Schaeffler, Trilliott and AsReader did not win in the overall category, announced on October 1, the companies know they have one of the top systems in place for inventory management. Lockheed won the category. As Trilliot stated on their website, "Lockheed's use of RFID is extensive and impressive, but there's a big difference in the Lockheed and Schaeffer situations. To get to this level Lockheed spent a decade and millions in hardware and internal software development. Trilliott and AsReader put Schaeffler on the map in a few months."